Head Coach Jim Hartigan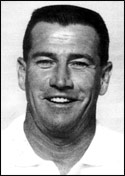 Jim Hartigan, 40, is 108-37-1(.743) after 12 seasons as varsity head coach. Overall, Coach Hartigan has a 124-40-2 (.753) if you include 10-0 and 6-3-1 lower level teams that he led in 1987 and 1988 respectively before the Eagles fielded varsity teams. He has won three League Championships and two CIF Titles all coming in the past 5 years. Jim was honored as both the 1996 and 1997 Daily Pilot Sea View League Coach of the Year, CIF-SS Division V Coach of the Year and the National Football Foundation Orange County Coach of the Year. Coach Hartigan has directed his squads into the playoffs in 11 of their 12 seasons and has never posted a losing season. Jim has coached in several exciting games including the 1997 Orange County All-Star Game, two state Games of the Week during the 1998 season, and a National Game of the Year (the 1997 CIF Championship Game)
Coach Hartigan's squad finished the 2000 campaign with an 8-3 record and made an appearance in the CIF-SS Division I playoffs. Highlights included a 21-14 victory over perennial power Mater Dei. This victory marked the first win over Mater Dei at the Varsity level and cleared the way for the Eagles to capture their first ever Serra League Championship. In 1996 & 1997, the Eagles won the CIF-SS Division V titles and Coach Hartigan was honored as the Daily pilot's Sea View League Coach of the Year and the National Football Foundation Orange County Coach of the Year. In 1998, Coach Hartigan led his team to a 10-4 record and an appearance in the CIF-SS Division VI title game. During that season he also saw his winning streak extended to 28 games. Coach Hartigan's success can be seen off the field as well. He has been the key individual in building what has been recognized by college coaches as possibly the finest high school football facility in the nation. The 8,500 square foot weight room, team room and coaching complex is a reflection of his dedication to making the football program a first class operation. He is currently laying the foundation for his most ambitious project yet - a permanent 16,000 square foot state-of-the-art football complex and 6,000 seat on campus stadium. His guidance, leadership and commitment to academics are also evident as four of his 1997-1998 seniors qualified for National Football Foundation Scholar Athlete Awards, and eleven of his former players have moved on to play at Ivy League Schools.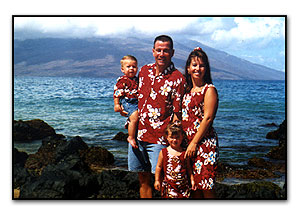 Coach Hartigan is a graduate of Cal State Fullerton where he played defensive back for Coach Gene Murphy. After graduation he returned to his alma mater, University High in Irvine, where he was a assistant for two seasons. He then moved on to Mater Dei where he coached under Chuck Gallo for three seasons. In 1987 he was selected by Founding Principal Michael Harris to be the first Head Coach of the Santa Margarita Eagles. After leading the Eagles through two seasons at the freshman and JV level, Coach Hartigan guided his initial varsity squad comprised of only Juniors and Sophomores to an 8-4 record and their first playoff appearance in 1989. The rest, they say is history. Hartigan, 40, is a member of the American Football Coaches Association (AFCA) and the National Football Foundation. He received his Masters Degree from Azusa Pacific University in 1993, and currently serves as the Department Head of the Physical Education Department. Coach Hartigan currently resides in Wagon Wheel Canyon with his wife Gina, daughter Gemma (3), sons Connor (2) & Tyler (1) along with his dogs Bear and Buddy.
Six returning and three new assistants will be on Coach Hartigan's staff this season. Sergio Muniz (Charter Class Alum) returns as Offensive Coordinator. Helping on offense will be fellow charter Class Alum Shane Mielke (offensive line), John Rodriguez (tight ends), Mike Maxwell (QBs), first year WR coach Casey Quinn and Hartigan (RB's). Coach Hartigan will be the Defensive Coordinator and Mike Jacot returns as the defensive line coach. Eagle Alums J. J. Wilson (DBs) and John Byszewski (LBs) are new for 2000. Vince Pattee will coach the Kickers. Jerry Holloway will coach the Sophomores and Andy Sulick returns to lead the Freshman team.
Varsity Coaches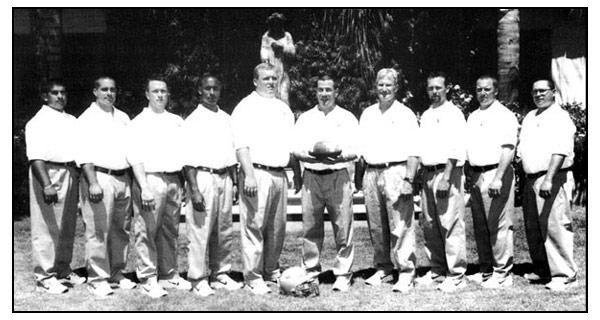 John Rodriguez, Mike Jacot, Shane Mielke, Casey Quinn, John Byszewski, Jim Hartigan, Vince Pattee, J.J. Wilson, Terry Roberts, Sergio Muniz
JV Coaches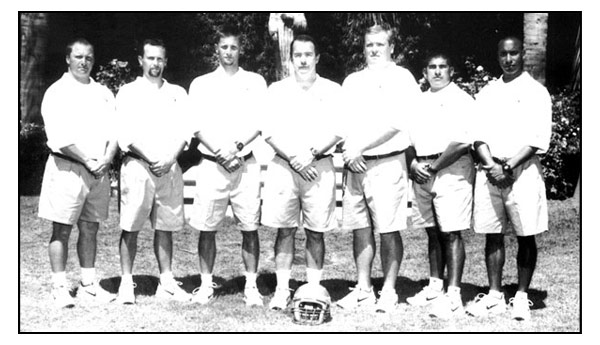 Terry Roberts, J.J. Wilson, Ryan Taylor, Jerry Holloway, John Byszewski, John Rodriquez, Casey Quinn
Freshman Coaches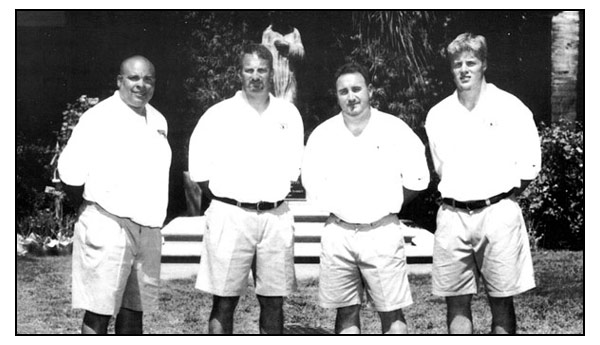 John Royston, Head Coach Micheal Borowski, Jamie Larkin, Tim Sulick,
Not Pictured: Kyle Skierski, Brian Berg
Support Staff
Team Doctors
School Administration
Mr Merrit Hemenway
Principal
Mary Beth Dougherty
Assistant Principal

Lu Dominguez
Assistant Principal
Richard Schaaf
Athletic Director
Mary Redwitz
Booster Accountant

Nancy Peterson
Assistant Principal
Tom Smith
Activities Director

Dr. Greg Giuliano
Dean of Discipline
Jack Morse
Dean of Discipline

Dr. Mike Elliott
Family/Psychological Services
Chuck Hansen
Plant Manager

Doug Williams
Associate Athletic Director

Pete Stevenson
Game Day Announcer
Fr. Peter Muller
Team Chaplain
No Picture
Available
Randy Redwitz
Business Manager

No Picture
Available
Steve Selwood
Eagle TV