Santa Margarita Rocks Mater Dei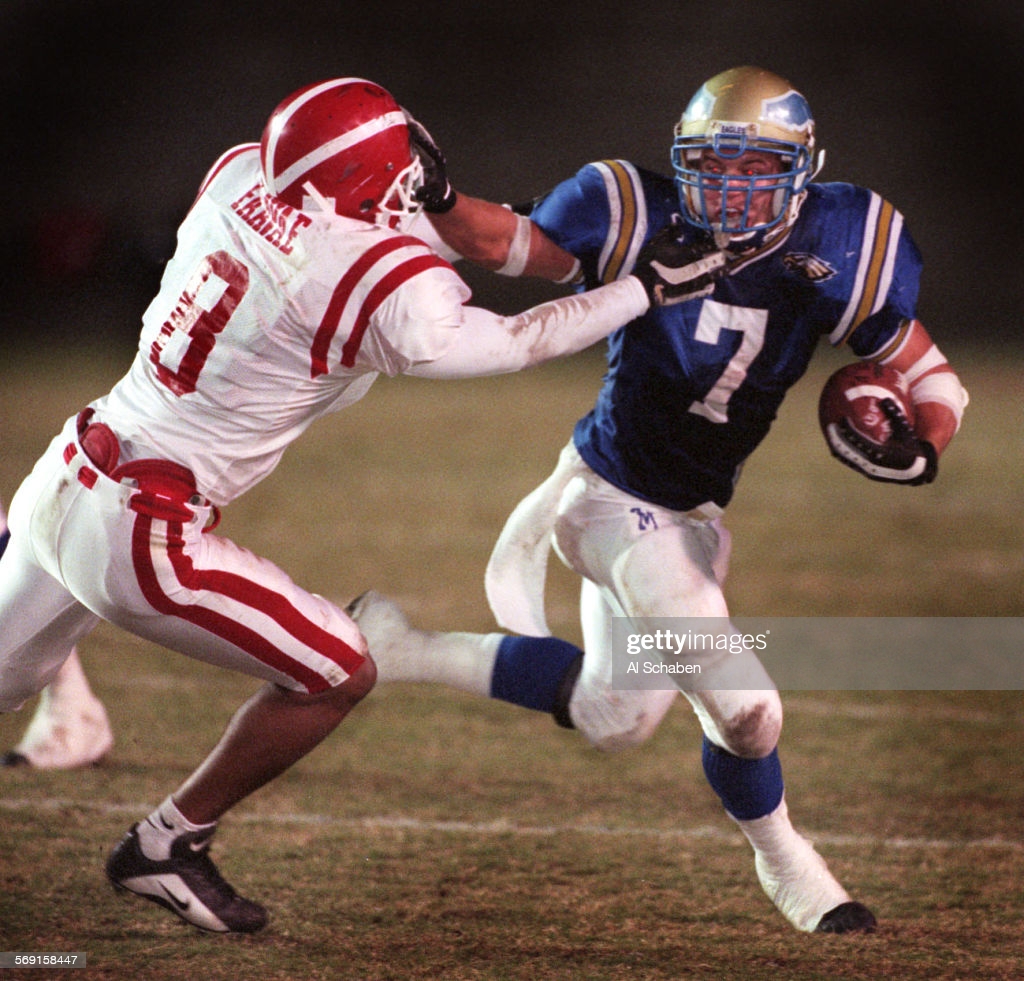 Rancho Santa Margarita running back Tyler Thompson, right, stiff arms Mater Dei's Brown Faavae during the second quarter Friday night at Cal State Fullerton.
Photo: Al Schaben
FULLERTON, CA., November 4, 2000 – The exhilaration evident in his eyes, the contents of the Gatorade cooler soaked into his shirt, Santa Margarita Coach Jim Hartigan stood on the Cal State Fullerton turf Friday night and tried to explain the magnitude of his No. 10 Eagles' 21-14 victory over top-ranked Mater Dei.
"It's not a CIF championship, but it's right up there," said Hartigan, who has won two lower-division Southern Section titles. "To beat Mater Dei, to beat [Monarch Coach] Bruce Rollinson, to beat the No. 1 team in the county, it doesn't get much better than that."
Judging from the reaction of Eagle players and fans, Hartigan's assessment was right on. Fans delighted in chants of "OVER-RATED! OVER-RATED!" Running back Tyler Thompson, who scored two touchdowns and caused a fumble, yelled to his teammates, "Hell of a game, baby! League champs!"
Santa Margarita could win its first Serra League title next week with a victory over No. 7 Servite.
But, for the moment, the Eagles were too busy celebrating to worry about details. Santa Margarita (7-2, 2-0) forced a turnover and blocked a punt that led to 14 first-half points and controlled the tempo with a ground-oriented attack, avenging last season's 34-0 defeat to the Monarchs (7-2, 1-1).
"Last year, the first time we played Mater Dei, we were a little intimidated because we had only heard about playing them," Thompson said. "This year, we got our heads into it and figured out they're a team just like anyone else."
The Eagles got off to a fortuitous start when Thompson stripped the ball from Mater Dei running back Camron Carmona on the first series of the game. Ashton White scooped up the ball and returned it 42 yards to the Monarch nine-yard line, and Thompson ran for a touchdown on the next play.
After the teams traded touchdowns, White blocked Bryan New's punt deep in Monarch territory. Eagle defensive end Alex Huston recovered the ball on the Mater Dei one, and Matt Dlugolecki ran into the end zone two plays later for a 21-7 advantage.
Mater Dei tacked on its final score when Matt Leinart passed to Jeff Diulio with 36 seconds to go before halftime for the pair's second touchdown connection, this one from 21 yards.
They had earlier hooked up on an 11-yard touchdown. Diulio finished with 12 catches for 125 yards.
Neither team scored in the second half as Santa Margarita continued to rely on its grind-it-out rushing game. Thompson finished with 92 yards in 31 carries, ending a streak of two consecutive games with at least 200 yards, and White gained 47 yards in 11 carries.
"It's kind of a blur," Rollinson said. "They ran it down our throats and we made mistakes. We're going to have to regroup big-time."
Mater Dei could lose what was expected to be a No. 2 seeding in the playoffs and could face Long Beach Poly before the championship game.
For Santa Margarita, the victory was a statement from a team in only its second year in Division I.
"I think it all came together at the right time," Hartigan said. "This is something you have to enjoy for a day or two and then strap it back on."
By Ben Bolch
Saturday, November 4, 2000
The Los Angeles Times