Varsity Coaches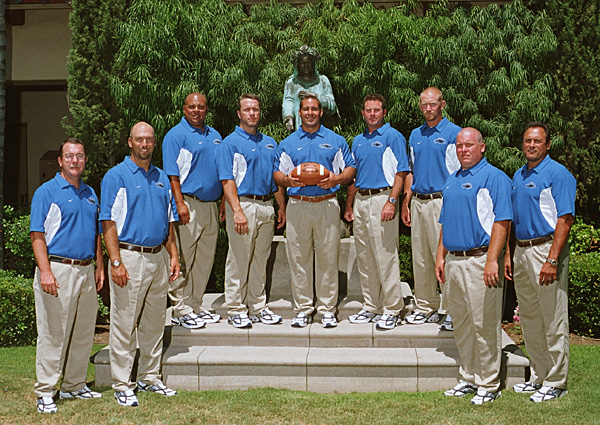 Jerry Holloway, Mike Maxwell, John Royston, Shane Mielke, Mike Jacot, Scott Cole, Scott McIntosh, John Byszewski, Ron Schreiber
Mike Jacot
Head Coach
Defensive Coordinator
John Byszewski
Linebackers
Scott McIntosh
Defensive Line
Scott Cole
Defensive Backs
Mike Maxwell
Offensive Coordinator
Quarterbacks
John Royston
Wide Receivers
Shane Mielke
Offensive Line
Jerry Holloway
Offensive Line
Vince Pattee
Kickers
Adrian Peters
Football Information Director
Melissa Finkenhagan
Team Trainer

NOT PICTURED:

John Rodriguez
Running Backs

Ron Schreiber
Offensive Line
Sophomore Coaches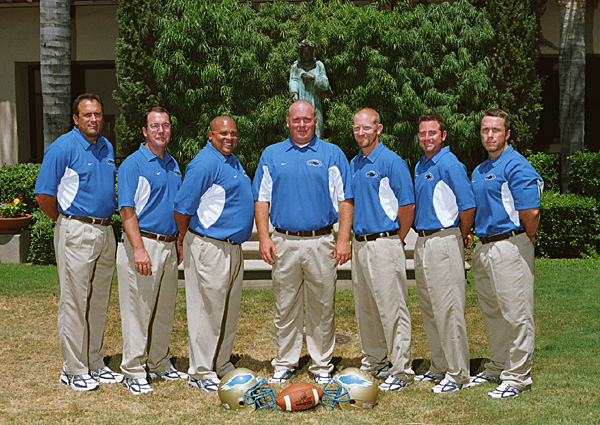 Ron Schreiber, Jerry Holloway, John Royston, Head Coach John Byszewski, Scott McIntosh, Scott Cole, Shane Mielke
Freshman Coaches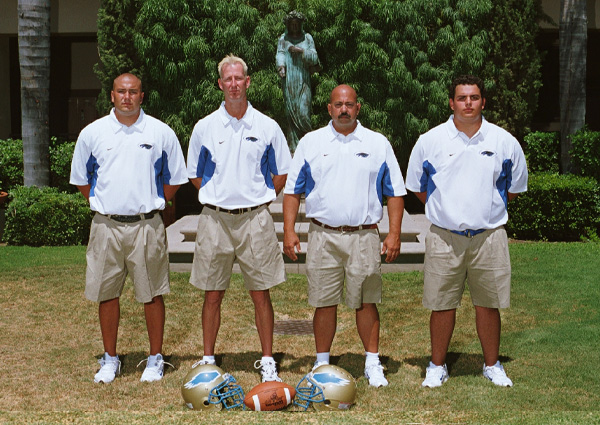 John Schweitzer, Jon Weimann, Coach Trianna, Nick Corrado
Not Pictured: Casey Colaw
Head Coach Mike Jacot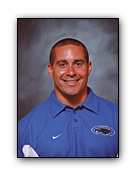 Head Coach Mike Jacot was named the 2nd Head Coach in at Santa Margarita High Catholic School history on May 28, 2003. The 2004 season marks his second season as both Head Football Coach and Defensive Coordinator for the Eagles and he currently boasts a career record of 11-9 (.556). In 2003, Coach Jacot posted a very impressive 7-4 (.640) record and a third place finish in the highly competitive Serra League before losing to nationally ranked Los Alamitos 20-10 in the CIF-SS Division I playoffs. He led his team to six consecutive wins to start the campaign and guided the Eagles to impressive wins over long time Division I rivals Bishop Amat and Fountain Valley and a dramatic come from behind win vs. Servite. In 2002 the Eagles recorded two shutouts and in 2003 never surrendered more than 21 in any particular game. Since the end of the 2001 season, a span of 31 games, they have allowed only seven touchdown passes including an amazing streak of 13 games in a row without allowing one.
Prior to being named head coach, Jacot, 30, had spent the previous four years as an assistant at Santa Margarita including the last three as Defensive Coordinator and Head Strength and Conditioning Coordinator. During his tenure as an assistant the Eagles have captured two Serra League Titles and developed a reputation for fielding active defensive units highlighted by stellar defensive line play. In 2002, the Eagles set several individual and team defensive marks and posted two shutouts including a decisive 19-0 win over national power Mater Dei. They also allowed seven points or less in five of their 11 games. In announcing Coach Jacot's appointment Athletic Director Richard Schaaf said, "Santa Margarita Catholic High School is fortunate to have several outstanding candidates, and the school feels that at this time Mike Jacot is the best man for the job." Said Jacot, "I'm honored to be selected as the new Head Football Coach of Santa Margarita Catholic High School. This was a goal of mine and I am very pleased. We have a great group of kids coming back and I look forward to facing the challenges of the Serra League and upholding the great winning tradition here."
Jacot is a 1993 graduate of Southern California Christian High School where he finished his career as one of the leading rushers and scorers in Orange County history. He attended Fullerton College where he started for two years at running back, rushing for 1,600 yards and earning All-Mission Conference honors in 1995. After graduating with an Associates of Arts Degree in 1996 he moved on to Oregon State where he lettered two years (1996 and 1997) before graduating in 1998 with a Bachelors of Science degree in Human Development and Family Science. Mike and his wife Nicole have one child, Michael Jr. (2), and currently reside in Anaheim.

Year-by-Year Record with Mike Jacot as an Eagle Assistant
1999 6-5 (CIF First Round)1
2000 8-3 (CIF First Round) 2,3
2001 8-2-2 (CIF Quarterfinals) 2,3
2002 6-5 (CIF First Round) 2,3
2003 7-4 (CIF First Round)2,4
Italics: League Champion
1. Defensive Line Coach
2. Defensive Coordinator
3. Head Strength and Conditioning Coordinator
4. Head Coach