Head Coach Jim Hartigan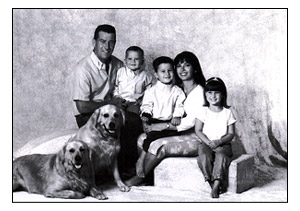 Jim Hartigan, 42, is 119-39-3 (.748) in his 14th season as the Eagles' varsity Head Coach. Overall, Coach Hartigan has a 135-42-4 (.757) record in 16 seasons if you include 10-0 and 6-3-1 lower level teams that he led in 1987 and 1988 respectively before the Eagles fielded varsity teams. He has won four League Championships and two CIF Titles in the past six years and has seen his team ranked as high as 12th in the nation (USA Today). Jim was honored as the both the 1996 and 1997 Daily Pilot Sea View League Coach of the Year, CIF-SS Division V Coach of the Year and the National Football Foundation Orange County Coach of the Year. Coach Hartigan has directed his squads into the playoffs in 12 of their 13 seasons, including seven in a row, and has never posted a losing season. He has coached eight High School All-Americans, 72 players who have gone on to play in the collegiate ranks and five who have gone on to the NFL. His 28-game winning streak from 1996-98 is the second best in Orange County history.
Seven returning and two new assistants will be on Coach Hartigan's staff this season. Sergio Muniz(Charter Class Alum) returns as Offensive Coordinator. Helping on offense will be fellow charter Class Alum Shane Mielke (Offensive Line), John Rodriguez (tight ends), Mike Maxwell (QBs), Casey Quinn(WR) and Hartigan (OL). First year coach Mike Tirabassi Joins the staff to assist with the Offensive Line. Mike Jacot returns as the Defensive Coordinator. Mike is assisted by Charter Class Alumni John Byszewski (Linebackers) and Alumni Scott McIntosh(Defensive Line). Vince Pattee returns to coach the Kickers. Jerry Holloway will once again coach the Sophomores and Mike Borowski returns to lead the Freshman team.
Varsity Coaches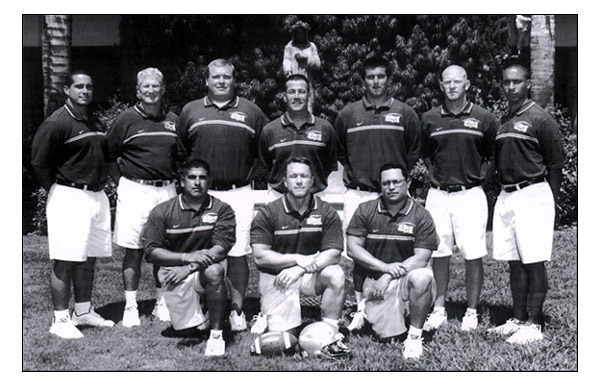 Mike Jacot, Vince Pattee, John Byszewski, Jim Hartigan, Mike Tirabassi, Scott McIntosh, Casey Quinn
John Rodriguez, Shane Mielke, Sergio Muniz
Sergio Muniz
Offensive Coordinator

Experience: 9th Year
College: USC
Family: Wife - Samantha
Hometown: Ladera Ranch

Mike Jacot
Defensive Coordinator

Experience: 4th Year
College: Oregon State
Family: Wife - Nichole
Hometown: RSM

Shane Mielke
Offensive Line

Experience: 7th Year
College: UC Davis
Family: Wife - Jolene
Hometown:
Trabuco Canyon

John Byszewski
Linebackers

Experience: 3rd Year
College: W. Colorado
Family:
Wife - Becky
Son - John Walter
Hometown: Aliso Viejo

John Rodriguez
Tight Ends

Experience: 10th Year
College: La Verne
Family: Wife - Esther
Hometown: Aliso Viejo

Scott McIntosh
Defensive Line

Experience: 1st Year
College: CS Fullerton
Family: Single
Hometown: Lake Forest

Mike Maxwell
Quarterbacks

Experience: 4th Year
College: Nevada-Reno
Family:
Wife - Christie
Daughter - Madison
Hometown: Las Flores

Mike Tirabassi
Offensive Line

Experience: 1st Year
College: Saddleback JC
Family: Single
Hometown: Mission Viejo

Casey Quinn
Wide Receivers

Experience: 3rd Year
College: W. Oregon
Family: Wife - Emily
Hometown: San Clemente

Vince Pattee
Kickers & Head Team Man.

Experience: 5th Year
College: Oregon
Family: Wife - Marlene
Hometown: Dana Point

Jerry Holloway
JV Head Coach
Offensive Line

Experience: 5th Year
College: San Jose St.
Family:
Wife - Ellen
Daughter - Courtney
Hometown: Trabuco Canyon

Mike Borowski
Freshman Head Coach

Experience: 7th Year
College: San Diego St.
Family:
Wife - Yvette
Son - Alex
Daughter - Jessica
Hometown: Dove Canyon

Adrian Peters
Football Information Dir.

Experience: 10th Year
College: Univ. of Pitt.
Family:
Wife - Sachie
Sons - Kendrick, Dimitrius, Akeilia
Hometown: RSM
Sophomore Coaches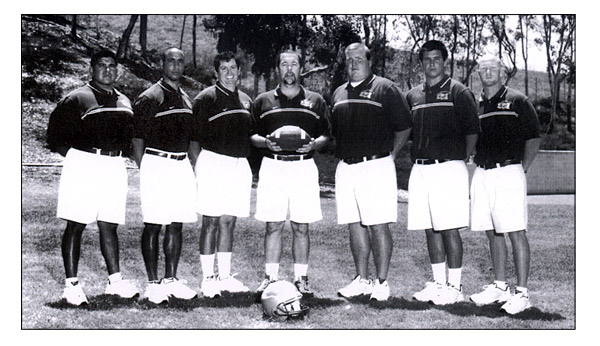 John Rodriguez, Casey Quinn, Robin Bivona, Jerry Holloway, John Byszewski, Mike Tirabassi, Scott McIntosh
Freshman Coaches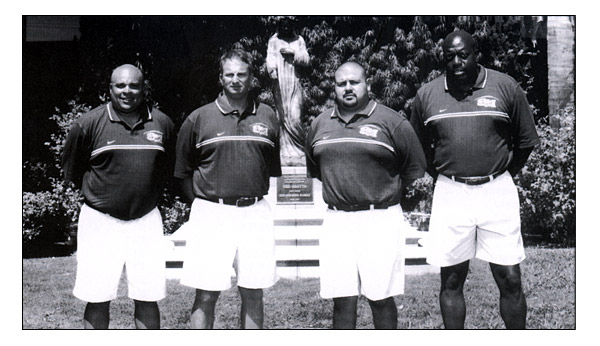 John Royston, Head Coach Micheal Borowski, Danny Gonzalez, Sam Reed,
Not Pictured: Jamie Larkin, Brian Berg, Jim Barnett
Support Staff
Team Doctors
School Administration
Brother Laurence
Principal
Mary Beth Dougherty
Assistant Principal
Academics

Lu Dominguez
Assistant Principal
Richard Schaaf
Athletic Director
Mary Redwitz
Booster Accountant

Doug Williams
Associate Athletic Director
Tom Smith
Activities Director

Jack Morse
Assistant Dean

Chuck Hansen
Plant Manager

Karen Edler
Director of Development
Dian Manarino
Football Secretary

Pete Stevenson
Game Day Announcer
No Picture
Available
Randy Redwitz
Business Manager

Fr. Buters
Team Chaplain
No Picture
Available
Steve Selwood
Eagle TV