Head Coach Jim Hartigan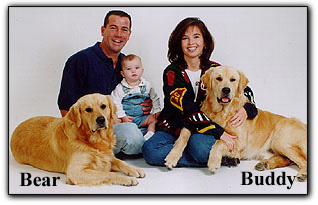 James Michael Hartigan, 37 was born on August 9, 1960 in Philadelphia. he is a member of the American Football Coaches Association. Hartigan is a graduate of University High School in Irvine and Cal State Fullerton whre he played defensive back under Gene Murphy. He came to Santa Margarita after coaching stints at Mater Dei and his alma mater, University. Married in February of 1992, Hartigan, his wife Gina and daughter Gemma reside in Wagon Wheel Canyon with their two Golden Retreivers Bear and Buddy. Hartigan Finished his Master's degree in education at Azusa Pacific University in 1993. He is also chairperson of the physical education department.
Hartigan is 94-29-1 (.762) entering his 11th season as Varsity Head Coach. Overall Coach Hartigan has a 110-32-2 (.771) if you include 10-0 and 6-3-1 lower level teams that he led in 1987 and 1988 respectively before the Eagles fielded varsity teams. He was honored as the both the 1996 and 1997 Daily Pilot Sea View League Coach of the Year, CIF-SS Division V Coach of the Year and the National Football Foundation Orange County Coach of the Year. Coach Hartigan has directed his squads into the playoffs in nine of their ten seasons and has never posted a losing season. In the past two seasons, Jim has coached in two State Games of the Week and a National Game of the Year (the 1997 CIF Championship Game).
Eight returning assistant coaches and one new coach are assisting Coach Hartigan with spring drills. The most significant change was the promotion of longtime assistant and Eagle Alumnist Sergio Muniz to the role of Offensive Coordinator. Helping Coach Muniz on offense will be fellow Alum Shane Mielke as well as Jerry Holloway (Offensive Line), Jaime Larkin (Wide Receivers), John Rodriguez (Tight Ends) first year coach Mike Maxwell (Quarterbacks) and Hartigan (RB's, Defensive Line). Joe Silvey returns as the Defensive Coordinator and safeties coach as does Tom Inglima (Linebackers) and Chris King (Cornerbacks). Larkin will also be the JV Head Coach, while Alum Andy Sulick takes over the Freshman team.
Varsity Coaches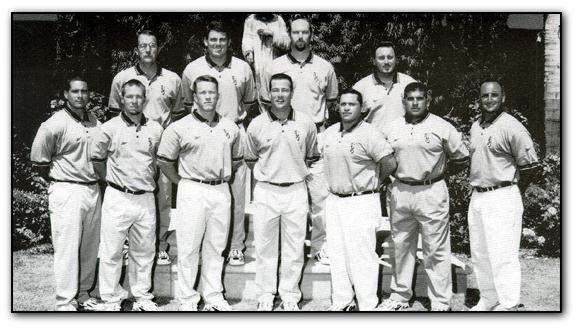 Jerry Holloway, Joe Silvey, Mike Maxwell, Jamie Larkin
Mike Jacot, Chris King, Shane Mielke, Head Coach Jim Hartigan, Sergio Muniz, John Rodriquez, Tommy Inglima
JV Coaches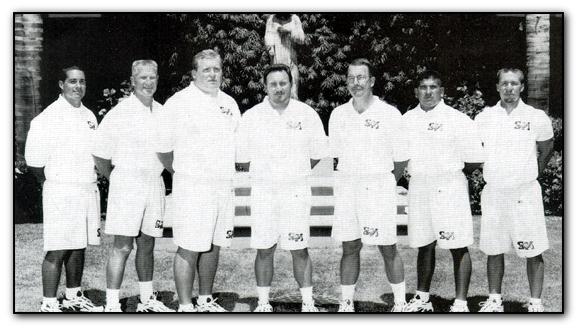 Mike Jacot, Vince Pattee, John Byszewski, Head Coach Jamie Larkin, Jerry Holloway, John Rodriguez, Chris King
Freshman Coaches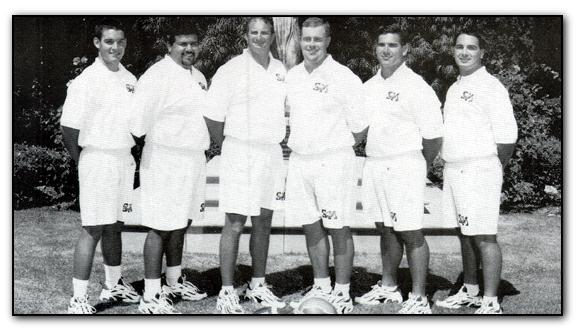 Andy Hopper, Dan Gonzalez, Mike Borowski, Head Coach Andy Sulick, Aaron Gutridge, Dave Corrao
Support Staff
Team Doctors
School Administration
Mr Merrit Hemenway
Principal
Mary Beth Dougherty
Assistant Principal

Lu Dominguez
Assistant Principal
Richard Schaaf
Athletic Director
Mary Redwitz
Booster Accountant

Nancy Peterson
Assistant Principal
Tom Smith
Activities Director

Dr. Greg Giuliano
Dean of Discipline
Jack Morse
Dean of Discipline

Dr. Mike Elliott
Family/Psychological Services
Chuck Hansen
Plant Manager

Doug Williams
Associate Athletic Director

Pete Stevenson
Game Day Announcer
Fr. Peter Muller
Team Chaplain
No Picture
Available
Randy Redwitz
Business Manager

No Picture
Available
Steve Selwood
Eagle TV