Stan Bennett - Philadelphia Eagles - Article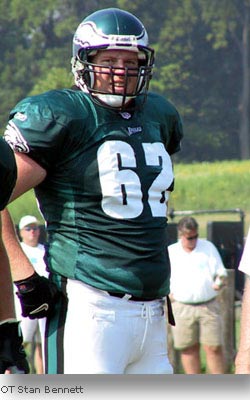 Stan Playing Like The Man
By DAVID MURPHY
www.philadelphiaeagles.com
BETHLEHEM, Pa. -- His name is Stan. His nickname is Louis.
For one Eagle offensive lineman, those are about the only things he can take for granted in life right now.
Stan Bennett, a former standout at Villanova University, is attempting to make the jump from Division I-AA to the NFL this summer in Eagles training camp.
"I'm feeling good so far," said Bennett. "I'm getting a little tired, a little exhausted. Probably not as bad as the guys that are taking a lot of reps, but I'm doing good so far."
Reps have been hard to come by for Bennett two weeks into Eagles training camp. On a team that returns all nine offensive lineman that were on the roster a year ago, spots on the depth chart are extremely limited. The Eagle offensive line started all 16 regular season games together last season and have done nothing, outside of suffer a few minor injuries, to make people think they won't do it again.
Nonetheless, that doesn't discourage Bennett.
"It kind of goes both ways," he said. "In some ways it is a little bit harder, but once you get in there, the guys start helping you out with anything you need, trying to make sure everything is ok, then it feels easier. As time goes on after that. It's kind of just getting into that first step."
For Bennett, getting into that first step was easier said than done.
A four-year standout on the line for Villanova, Bennett was not, and did not expect to be, drafted. He was picked up by the Jets and was present for their first mini-camp, but New York soon released him.
After that unkind cut, Bennett returned to his home in California, not sure if he would ever put on a set of football pads again. He spent time with his family, whom he had seen only sparingly during his four years of college.
"I was enjoying being done with school, being done with football and just relaxing," said Bennett. "I really didn't get home that much the past four years I was in college. The fact that I was able to come home for a week, I was just enjoying being able to be with my family and seeing what that was like." Yet the whole time he was home, his mind was on football.
He continued to workout and run and hope for a shot in the NFL. Finally, the Eagles gave him one.
"They were the only team that called," said Bennett.
He arrived in Bethlehem, PA and almost immediately started opening eyes. He impressed teammates so much in 1-on-1 drills that they gave him a nickname, "Louis," after an expensive bottle of Cognac.
"You only bring it out on special occasions," said offensive lineman John Welbourn. "That's Stan."
Bennett, of course, is hoping that those special occasions become a little more regular.
"When I came in I considered myself a longshot," said Bennett. "But I don't concern myself with that. I just go in there and try to learn as much as I can. I just go in there and try to do what I can do. I try to just find my place. If it happens it happens, if it doesn't, I can't control that."