Stan Bennett - Philadelphia Eagles - Article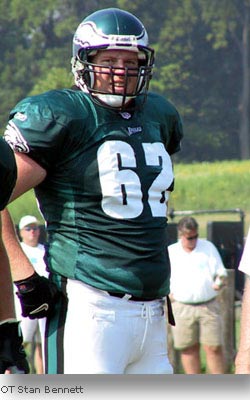 Louis, Louis
By Phil Sheridan
INQUIRER STAFF WRITER
www.philly.com
Louis, Louis. His name is Stan Bennett. He went to Villanova. He plays offensive guard.
So why is his nickname "Louis?" Therein lies a story.
Among the close-knit offensive linemen, Bennett has emerged as a cult figure. He drew attention for his play in the one-on-one drills against the defensive linemen. As starting right guard John Welbourn put it, "He doesn't get many chances, but whenever he does he looks great."
At first, the linemen started tapping their arm, like a baseball manager calling in a relief pitcher, whenever Bennett won a scrum. Then Tra Thomas remembered the Louis XIII cognac the players discovered while out at a group dinner in an expensive restaurant.
Made by Remy Martin, the stuff goes for $1,199.99 a bottle at Pennsylvania State Stores. You have to special order it. At the restaurant, the players learned that a single after-dinner drink costs $150.
"It's the kind of stuff you bring out only on special occasions," Welbourn said. "It's too good to drink all the time. And that's Stan."
Bennett grinned at all the fuss. He went to Villanova because his former high school teammate, Brian Finneran, went there and loved it. He wanted a place where "education mattered." He wound up starting all 46 games during his collegiate career. After a brief tryout with the Jets, he went home to California.
"I thought my career might be over," Bennett said. Then the Eagles called. He quickly found himself fitting in with the other linemen.
"These guys are great," Bennett said. "They help me out. They answer my questions. I think I'm doing OK in the one-on-one drills. That's the first thing I picked up. But I have a ton to learn as far as the offense, especially run blocking."