Matt Nickels - USC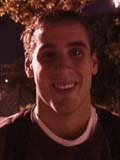 Nickels interview
By: Garry Paskwietz
Date: 11/22/2000

The butterflies start when you are walking through the tunnel at the Coliseum with the echoes of the crowd and the drums. It's just an unbelievable sensation to play at a place like the Coliseum, I couldn't be happier that we are finishing up there.WeAreSC.com caught up with Trojan WR Matt Nickels after practice this week to discuss his thoughts on the season and his career on the USC football team. Nickels was originally a walk-on with the Trojans after spending two seasons at Dartmouth and played in HS at Santa Margarita, where he was a teammate for one season with Carson Palmer.
WeAreSC: "Tell us your emotions as you prepare for the final game of the season."
Nickels: "It's been real emotional for me, this is the last week of football in my life. It's been a terrific ride and to have a win in the last week against Notre Dame would just be a dream come true. Hopefully we can go out and perform like we did last week because if we do that I don't think anybody can beat us."
WeAreSC: "What is it going to feel like coming out of the tunnel for the last time?"
Nickels: "It's going to be incredible. I'm probably going to just go out early and stand on the field for a while before the game to just take it all in and store it in the memory. It's been unbelievable, to play at a place like the Coliseum, I couldn't be happier that we are finishing up there. I'm just excited about it."
WeAreSC: "What was it like the first time you ran through the tunnel?"
Nickels: "The first time I was petrified. I wasn't sure if I was going to play or not but from that point to now there have definitely been some changes in my personal attitude towards football. I love the Coliseum and just feel that walking through that tunnel is a feeling everyone should get a chance to experience at some point in their life."
WeAreSC: "Talk about some of those changes. You have had an interesting ride here at USC."
Nickels: "The first few times I went out there I was more or less there in a supporting role and didn't expect to play. Now it's my turn to play and I'm going through that tunnel to step on the field to play a game and its an incredible feeling. The butterflies start when you are walking through the tunnel with the echoes of the crowd and the drums. It's just an unbelievable sensation."
WeAreSC: "Was there a specific point in your mind where you made the transition from walk-on to contributing member of the team?"
Nickels: "The beginning of the season is when that really started to come around. In the Penn State game I got some time, more time than I really expected, and it's just sort of built on that from then on. It's been a great transition for me going from walk-on status to getting playing time. It's a great honor that the coaches considered me worthy enough to do that."
WeAreSC: "Talk about how you ended up at USC after starting your college career at Dartmouth."
Nickels: "I was at Dartmouth for two years and really enjoyed my time there but my father became ill with cancer and so I decided to make the trip home to be with my family and support my father. We went through some tough times for about a year and then I decided to walk-on with the team with the urging of my parents and Carson Palmer and I haven't really looked back since. The fact that I was able to come in and earn a scholarship and really contribute, you know, and be part of the lore of USC has been an incredible journey."
WeAreSC: "How important has it been to share all this with your parents?"
Nickels: "That really has been the best part. They haven't missed a game, either one of them, in the two years that I've been here. They've been my biggest fans and my biggest critic, telling me when I do something wrong. I love them to death and it's been a great journey to have them by my side while it all has been going on."
WeAreSC: "Talk about your living situation this year."
Nickels: "I live in a house with Carson Palmer, Zeke Moreno, Charlie Landrigan and Malaefou MacKenzie. It's a great group of guys that all contribute on the team so we have a lot to talk about when we get home. It's just a real fun, fun atmosphere with a tremendous group of people. I would have to say the biggest slob is Zeke although we all have our moments. Charlie is probably the neat freak of the group and has been the best about doing things like calling the exterminator to take care of a little rat problem we had but we're all fairly neat people and we keep the place pretty clean."
WeAreSC: "Tell us about your first practice as a Trojan."
Nickels: "It was my first morning workout, basically my first workout with USC football and I didn't really know what to expect with the tempo, how fast everything was going to be and things like that. I walked on to the field with Kenny Horowitz, he was the other walk-on that spring, and we were just talking to each other because we didn't really know anybody else. Petros Papadakis walked up to us and said, "Are you guys scared?" We looked at him and obviously we were scared, maybe more nervous than scared, but answered back, "No, not really" and then he said, "Well, you should be" and just walked away. After that we were definitely scared, we didn't know what was going to happen but we made it through that first workout and everything was okay, he was just pulling our chain."
WeAreSC: "You did know one person on the team when you came in and how important was it to have that person be the starting quarterback."
Nickels: "It's been great because everyone has such respect and admiration for Carson and he is such a likeable person. He had great relationships with everyone on the team and I was able to just sort of meet people through him which was really nice. He's more of a great person than he is a great quarterback and he is just an outstanding individual. He took me under his wing, introduced me to everyone and was real supportive when I was going through the whole process with my father."
WeAreSC: "What has been your biggest in-game moment so far with the ND game still to play?"
Nickels: "It had to be when I scored a touchdown against Colorado. I wasn't expecting the ball, I wasn't expecting to score any touchdowns, I was going to be surprised if I caught any passes this year so when the ball came my way and I just sort of found myself in the end zone it was a dream come true. I didn't even know what to think, my mind just started racing and I had so many emotions going through my head at once, it was just an incredible moment for me."
WeAreSC: "That catch came against Colorado with former HS teammate John Minardi and you have had the chance to play against several close friends."
Nickels: "Yeah, I have had the chance to play with some friends all over the Pac-10. Brad Brennan, the WR from Arizona, is a great friend of mine, Billy Newman for Washington State was one of my best friends in high school and Minardi is another who was a good friend. It's been great to see some of these guys and play against them because it's always fun to have a little personal rivalry going with someone who is on the other team."
WeAreSC: "What are you majoring in and looking to do after graduation?"
Nickels: "I'm majoring in sociology with a minor in business and looking to get into some sort of business but am pretty open minded right now. I've had a couple internships that I could pursue perhaps but right now I'm just sort of finishing up school and the end of the season. Once all that is through I will really put my mind into finding a job and going through all that process. I really enjoyed my experience as an intern at Fox Sports. I met some really great people and it was sitting around watching sports all day so it was the ideal job. I worked for Mr. Palmer this summer in the financial services arena and I learned a lot, it was a great experience for me too."
WeAreSC: "Talk about the fake kick last week against UCLA when you took a pretty good shot."
Nickels: "It was a run all the way and it was intended to go outside because they usually have a real strong rush off the edge but they showed us a defense that they hadn't used in 10 games so far this season so I guess I was a little unlucky on that play. I thought about trying to take it outside but I saw Ricky Manning there and he is one of the fastest players in the country and I figured I wasn't going to beat him to the corner so I turned it up to see what I could get. I got about 5 yards before I just got crushed by 4 guys. I'm still feeling it a little bit, if a Trojan would have hit me I would have felt it a lot harder but it was a Bruin so it wasn't too bad."
WeAreSC: "What is your ideal finish to this season on Saturday?"
Nickels: "To blow them out. I think that we are so capable of doing it. Defense, offense, if we can just eliminate giving up the big play and stay consistent on offense with the offensive line playing well and you know that Carson is going to play well so I think that would be the ideal way to go out. If we can beat both UCLA and Notre Dame in the same season, it would be the first time it has happened in two decades. So many great players and great teams before us haven't been able to do it but we have that chance and I think it would give us a lot of respect from USC fans and alumni, that would be great."
WeAreSC: "When you sit back 30 years from now and talk about playing football at USC, what will you talk about?"
Nickels: "The characters. I'll tell the stories about Petros and Faaesea Mailo, guys who are just one of a kind and who I will never meet anyone like again. Petros singing songs on the bus or keeping things loose with his impersonations. That will probably be where most of the stories will come from but I'm sure I'll make up some hero stories for my grandkids, embellish things a little, but most of the stories I tell my friends these days are just the silly things that go on in meetings, in the hotels, stuff like that. Little things like someone tripping on the practice field which cracks us all up and breaks up the monotony of a practice."
WeAreSC: "What will you miss the most next week when football is done."
Nickels: "Just the whole experience. It's been an outstanding dream come true, I'll miss everyone from the fans to the band and my teammates and coaches. The whole thing is going to be kind of a shock when it's all over, I don't think it will sink in right away but I really couldn't have asked for much more out of it."