Josh Beckett - University of Oregon
| | |
| --- | --- |
| | Josh Beckett |
Hometown:
Rancho Santa Margarita, Calif.
High School:
Santa Margarita Catholic

Height / Weight:
6-5 / 315
Position:
Offensive Tackle
Experience:
1L
PERSONAL - Born Joshua Matthew Beckett on May 21, 1977 in Mission Viejo, Calif. Parents: William and Julie Ann Beckett. Family: Two brothers, one sister. High School (Coach): Santa Margarita (Jim Hartigan) '95. Major: Sociology. Redshirt: 1995.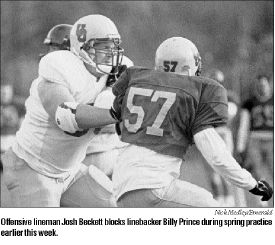 HIGH SCHOOL - Started at all the positions on the offensive line over final two prep seasons, concluding career as all-CIF Southern Section performer in Division V and first-team all-Seaview League honors. Helped squad to seventh straight playoff appearance as junior as outstanding pass blocker to begin two-year stint as a starter. Played guard and center as senior after working at tackle during junior year. Has impressive physical attributes enhanced with regular weight training. Also played nose guard and tackle on defense.
OREGON - Emerged as a viable factor in the offensive line a year ago, battling for time at right tackle while playing in all 12 games and starting on six occasions. Increased confidence transformed into improved play as the season wore on, registering 73 snaps at Washington State and 61 vs. Stanford. Provides an added asset of feeling comfortable at either tackle or guard, and assumed additional responsibilities as a team leader last spring. Has increased performance level significantly since earlier in his career, with hopes that he makes as much improvement from his junior year as he did from 1997 to '98. Experienced his most extensive duty of his '97 regular season during the final two games, taking part in 24 plays vs. Oregon State. Opens fall drills as the starter at right tackle.