Carson Palmer - Cincinatti Bengals
A thrower from the start - New Bengal Carson Palmer: a low-key guy with a tough work ethic
By Mark Curnutte
The Cincinnati Enquirer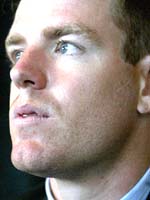 Carson Palmer, quarterback from Southern California, is comfortable with the media.
(AP photo)
| ZOOM |
Carson Palmer would have plenty of reasons to let his celebrity get the better of him this week.
His picture is on the cover of this week's Sports Illustrated magazine. (He turned the issue face down on the coffee table before leaving his family's Orange County, Calif., home earlier this week.)
A television commercial for EA Sports will debut during today's NFL draft coverage in which Palmer is welcomed to the league by Ravens linebacker Ray Lewis.
Then there's this matter of the $10million the Bengals paid Palmer on Thursday for signing his name to a contract that could pay him a total of $49 million before he reaches his 30th birthday. The Bengals will select Palmer with the first overall pick in today's draft, which will begin at noon.
Yet Palmer remains remarkably humble and unaffected by wealth and fame, say the people closest to the former University of Southern California quarterback.
Palmer's younger brother, Jordan Palmer, who is 18 and a quarterback at the University of Texas-El Paso, recalls a phone conversation he had recently with him. It was April 14. Carson was headed home to Los Angeles after a weekend visit to Cincinnati.
"He always takes the subject off himself," says Jordan, who will be his brother's best man at his July 5 wedding. "I want to know about the Bengals, and he starts asking me about what I'm doing in study hall. I said, 'Stop being a moron and tell me about the visit.' "
Palmer handles celebrity well because his place at the top of the NFL's 2003 draft class is not entirely unexpected. His parents, Bill and Danna Palmer, provided their third child with all of the opportunity he needed to become a top football player.
He had the physical stature - he was born Dec. 27, 1979, weighing 101/2 pounds and 24 inches long - and showed an intense desire early on to play quarterback.
"I couldn't interest him in a Fisher-Price toy," Danna Palmer says. "He always had to be throwing a ball."
Beside unrelenting family support, Palmer has benefited from an increasingly strong Christian faith and his child-like ability to diffuse pressure by having fun.
"Carson realizes he has been given a gift and wants to steward that by honoring God, his parents and his wife," says the Rev. Denny Bellesi, senior pastor of Coast Hills Community Church in Aliso Viejo, Calif. He has counseled Palmer and his fiancee, Shaelyn Fernandes, and will conduct their wedding in Pebble Beach.
Palmer's life has changed since he won the Heisman Trophy as college football's top player on Dec. 14. But he hasn't changed, says Fernandes, a former goaltender on the Southern California women's soccer team who met Palmer at freshman orientation.
"He could sit on the couch for 24 hours and play video games," she says.
She got him out of town at least once. They went together to San Diego for the Super Bowl in January, but the game was not the highlight of the trip for Palmer.
"He was most excited when he got to meet (rap star) Snoop Doggy Dog," she says. "Carson was so excited when he found out Snoop had worn his (No. 3 Southern Cal) jersey and wanted to meet him."
Then there was the Hollywood, Calif., premiere of the film Old School, to which Palmer was invited. Again he took his future wife to the screening and party after.
"He loved meeting (actor) Will Farrell," she says. "He thought he was hilarious."
But Palmer is dead serious when the topic is football.
By the time he was in seventh grade, he was the size of a high school varsity player and had the arm strength.
So dad Bill enrolled Carson in private classes taught by quarterback guru Bob Johnson, dad of NFL quarterback Rob Johnson.
"I usually coach just high school quarterbacks, but Carson had the tools," Bob Johnson says. "He had the work ethic and great attitude. He wanted to learn everything."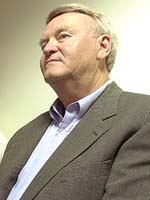 Bill Palmer, the father of Bengals first round draft pick quarterback Carson Palmer during the press conference announcing his signing Thursday afternoon.
(Glenn Hartong photo)
| ZOOM |
Carson went on to play at Santa Margarita High School in Orange County, but Bill Palmer - a successful financial planner - had a job offer he couldn't pass up in New York. The plan was for Carson and Jordan to play high school ball in Connecticut, but the football wasn't on a par with the game in California. Carson would probably have had to relinquish his dream of playing quarterback at Southern Cal.
So Bill decided to commute on weekends for four years, coast to coast, and let Carson play at Santa Margarita. Carson was on football and basketball teams that won state titles and earned the scholarship to USC.
"He wanted it badly," Bill Palmer says. "We did what we could to give him the opportunity."
Asked about his parents' influence, Palmer says, "The main thing was love, the love they showed me through the sacrifices they made."
Palmer persevered through ups and downs at USC before ending on a high note. The Trojans finished 11-2 with an Orange Bowl victory over Iowa. And Palmer would become the fifth Heisman Trophy winner in school history, outdating the lithograph that hung over his bed in school of the previous four USC winners.
The next stop is Cincinnati.
"I'm a pretty low-key guy," says Palmer, who will look for a house with his fiancee after the Bengals' May 2-4 minicamp.
"I like hanging out with my family and my fiancee, watching TV and hanging out. I love sports, so I like to follow sports."
Palmer at a glance
FAMILY: Bill and Danna Palmer, three siblings: Robert, 38; Jennifer Santos, 32; Jordan, 18.
HOMETOWN: Laguna Hills, Calif.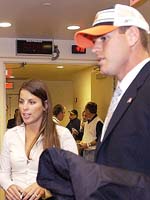 She's a little bit country, he's a little bit... uh, rap.
(Glenn Hartong photo)
|
ZOOM
|
LIGHTS, CAMERA:
Carson's favorite movie is
Dumb and Dumber
. Danna says her family has watched the movie together at least a dozen times and that Carson and his younger brother, Jordan, can recite almost the entire dialogue. Carson also likes action movies such as
The Patriot.
OH, WAITER: Carson's fiancee, Shaelyn Fernandes, says Carson could eat pepperoni pizza three meals a day but is particular - as an athlete - about the food he puts into his body.
WEDDING BELLS: Carson and Shaelyn will be married July 5 in Pebble Beach, Calif.
FUTURE WIFE: Carson met Shaelyn at freshman orientation at the University of Southern California. She was a goaltender on the USC women's soccer team and is from San Jose, Calif.
IN THE CD PLAYER: Rap, including Snoop Doggy Dog. Shaelyn also has Carson listening to country music now and then.
FOOTBALL HERO: Former Cowboys quarterback Troy Aikman.
---
E-mail mcurnutte@enquirer.com