Carson Palmer - USC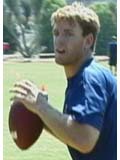 Carson Palmer interview
By Garry Paskwietz
www.wearesc.com
Date: Aug 10, 2001
"I have everything to prove. It's my fourth year here, my third playing and this is the time. I've had a lot of expectations since the day I got here and I havent lived up to any of them, this is my chance."
"How does this new offense different from the past?"
"It's completely different, there's no comparison at all. This is all about timing, all about quickness. A lot of this offense, sixty percent of your balls are throws under five yards. There not difficult balls to throw but you need to be right on time because there are only certain slots where the defense is gonna let you get a ball in. The playbook is about half the size of the one we had last year and there's a lot less formations, lot's less protections and less plays. We've been working on a lot of 3 step drops, a lot of shotgun, just catching and throwing. It's much better suited for the guys that we have, guys like Malaefou MacKenzie and Charlie Landrigan can both catch the ball and run routes. In this offense there going to have a lot more chance to touch the ball."
"How far along are you right now with the offense?"
"After spring we pretty much had the entire offense so we were comfortable with that and this summer was just about working on timing, working with the guys, I had a good chance to work a lot with Kareem. He had a quad problem early in the summer but he worked through that. Guys like Keary Colbert really stepped up and basically this summer was spent working on timing. I didn't have a chance to work a lot with the guys last year in the off season because I was coming off my injury so this summers been great. All the receivers have made it out and have had a chance to catch balls from all the quarterbacks so that is only going to help."
"Talk about Coach Chow."
"I love the guy, I mean he's amazing. You would never know that he coached at BYU all those years, was the assistant coach of the year, won a national championship. You would never know by talking to him that he coached guys like Jim McMahon, Steve Young. I just have so much respect for the man as a person, since he's come in it hasn't been all football, he's a real person too and he wants to talk about what's going on in your life, in this guys life. He's been a coach and a friend and definitely a mentor, I'm so looking forward to this year and having the chance to learn from him."
"Talk about Coach Sarkisian."
"Coach Sark's awesome. He's gonna be a great coach someday. He's young right now and he's learning under Coach Chow, who better can you learn under, and he's run the offense. He took BYU to 11 wins so you know he can play and everybody respects him."
"Your family is very close, how important has it been having them be a part of all this?"
"Oh yeah, it's been so great. It's been amazing to have my parents at all the practices, I get to see my little nephew all the time when he comes up. It's been real comforting because sometimes there were times last year when I just had to go home and be around my family. I've been thinking that Jordan (brother, QB at Mission Viejo) has the chance to go to a couple different colleges and I keep telling him you do not want to leave California. It's so tough to be away from your family and not be able to come home. I go home whenever I want, its only 40 minutes away."
"How much are you looking forward to seeing Jordan play this year?"
"Oh, I can't wait. I think we have a bye the week of the Mater Dei game and so I'm gonna make it down there for that. I've been talking trash with Lenny (Vandermade, former Mater Dei star) all summer so we have a little rivalry going on that game."
"How did you enjoy the Elite 11 camp?"
"It was great getting a chance to work with all the top quarterbacks from around the country as they are getting ready to make their college choices. They get a chance to work with one of the best coaches around in Bob Johnson, he's just a great person and a heck of a coach, and for a kid to get the opportunity to come and workout with him is an excellent opportunity. He's the first one who ever taught me how to take a 3 step drop, how to throw a spiral, he's the one who got me here."
"How much did you miss Marcell Allmond last year?"
"It was tough losing Marcell just because we had to throw some young guys in the mix early and someone like Keary who was a true freshman had to play. It was hard because he was experienced and he and Kareem were a pretty good combination. Once he went down they were able to focus on Kareem but it's gonna be great to have him back this year because he's that bigger, physical receiver we need."
"Talk about Grant Mattos."
"Having a guy like Grant Mattos come in has been great, he's really gonna set the tone for the receivers. He's out there working harder than anyone on this team and he'll catch any ball, his hands are unbelievable. He's big and physical too so we can put him at tight end or receiver and he's strong enough to do both. It's gonna be exciting to see what he does this year. His story of how he got here is amazing, I'm not surprised at all that Coach Chow went out and found some guy from some place and brought him in with a chance to start. "
"How much do you have to prove this year?"
"I have everything to prove. It's my fourth year here, my third playing and this is the time. I've had a lot of expectations since the day I got here and I havent lived up to any of them, this is my chance."