Carson Palmer - USC
Trojans have found their man
By Mark Soltau
CBS SportsLine Senior Writer
Nov. 7, 1998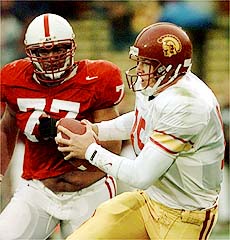 PALO ALTO, Calif. -- This was supposed to be a learning year for Carson Palmer. Most expected him to get his feet wet with the USC football program by putting lamp black under his eyes, holding a clipboard and ogling at the cheerleaders.
Instead, the highly-touted 6-foot-4, 220-pound true freshman quarterback made his second consecutive start Saturday. The first came last week against Washington, when the youngster led the Trojans to an impressive 33-10 homecoming victory over Washington.
Palmer, only the second freshman in school history to start behind center, completed 18 of 31 passes for 279 yards and one touchdown in his debut. He did even better against the Stanford Cardinal on Saturday, hitting 18-of-25 for 195 yards in USC's 34-9 victory at soggy Stanford Stadium.
Never mind what his birth certificate says: Palmer neither plays or acts like a teenager. As Stanford discovered, he's cool, calm and deadly, and not the least intimidated by his new surroundings.
Palmer, a consensus All-American at Rancho Santa Margarita High School in southern California, where he led his team to consecutive CIF Division V championships, looked and played pretty much as advertised.
"CARSON HAS THE SIZE OF TROY AIKMAN and the arm strength of John Elway,'' said his former prep coach, Jim Hartigan. "He's got the super quick release of Dan Marino and the ability to put zip on the ball or touch depending what the situation calls for. The bigger the game, the better he performs.''
High praise, to be sure. But 10 games into his college career there seems little doubt Palmer will eventually play on Sunday.
"He's going to be a big-time player,'' said USC wide receivers coach Mike Wilson, who won four Super Bowl rings playing for the 49ers. "He has all the skills required. That was evident the first day of training camp. The kid is extremely talented.''
Also unflappable and easy going. Palmer has a gun for an arm and knows how to use it, though he pulled in the reins after losing deep threat R. Jay Soward to a first-quarter ankle sprain.
He was almost unstoppable in the first half, completing 11 of 16 passes for 114 yards. At least two passes were dropped, and another, a gorgeous 48-yard scoring toss to split end Billy Miller, was nullified by a penalty.
PALMER HANGS IN THE POCKET like a pro. He's confident not cocky, tough, accurate and sees the entire field. When pressured, he has the poise and agility to elude defenders and throws effortlessly on the run.
"Carson is a different kind of kid,'' said junior offensive guard Travis Claridge. "I think he's doing a great job. I started as a freshman and I was nervous as crap. I was a basket case. He's really poised and says, 'Give me time and we've got six.' ''
The only tip-off to his inexperience is the band around his left wrist. Palmer has trouble reading plays on the sideline and many are printed on the wristband to speed up the process. He's also the only guy in the huddle who wears his white tube socks just below his knees.
Otherwise, he runs the offense like a veteran. Since taking over for junior Mike Van Raaphorst, Palmer has jump-started the unit. Teammates insist he has a special presence and were instant believers.
"WE WERE,'' CLARIDGE SAID. "For some odd reason, guys responded. We don't want him to get hurt or freaked out back there. He's handling it like a man.''
Palmer nearly changed his mind about attending USC when coach John Robinson left, giving strong consideration to Colorado. But new coach Paul Hackett, a quarterback guru who has tutored Joe Montana among others, won over Palmer by showing him films of the explosive West Coast offense he planned to install.
"I wasn't sure what was going on,'' said Palmer, a large Band-Aid covering a gash under his chin. "I was a little confused.''
Not any more. His future arrived ahead of schedule.
"I didn't know what was going to happen,'' he said. "I was just hoping I would play.''
FOR THE RECORD, THE OTHER FRESHMAN to start was Rob Johnson, who held the job for one game in 1991. Coincidentally, Johnson's father, Bob, has been Palmer's personal tutor since the seventh grade. Carson and Rob, the latter a member of the Buffalo Bills, are good friends and work out together during the off-season.
Palmer is part of a youth movement at USC. Of the team's 44-man, two-deep roster, 32 players are non-seniors and 16 are starters.
Alumni began clamoring for a quarterback change earlier in the season. Hackett resisted, not wanting to rush Palmer. In three games, Van Raaphorst became ill or injured, and Palmer replaced him. On each occasion, he played well and improved with every snap.
Tired of being asked about a quarterback switch, Hackett told reporters, "I'll wear a clown suit when I announce the change.''
HACKETT SHOWED UP FOR THE Washington game attired in traditional coaching garb. Afterward at the postgame press conference, he arrived carrying a clown wig.
"In my mind, Mike had eight starts and the opportunity to lead the team,'' Hackett said. "I felt Carson deserved the opportunity to show what kind of player he could be as the clear-cut leader of this football team.''
Palmer is making the most of it. Saturday's win, sparked by an inspired defensive performance, qualified the Trojans (7-3) for postseason play (they play 12 games). Now 5-2 in the Pac-10 Conference, Hackett hasn't given up hope of earning a share of the league title, especially if Palmer keeps improving.
"I think he's got a great future ahead of him,'' said Claridge. "I'm honored to block for him.''
Mark Soltau is a senior writer in CBS SportsLine's San Francisco bureau.