Carson Palmer - USC
Quarterbacks hold key to battle of L.A.
By Rob Miech
CBS SportsLine Staff Writer
Nov. 18, 1998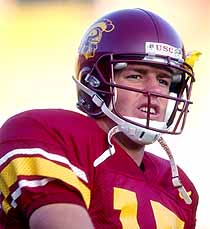 LOS ANGELES -- After attending the last two USC-UCLA football games, Trojans freshman quarterback Carson Palmer thinks he knows what awaits him Saturday at the Rose Bowl.
"I have a little picture in my head," Palmer said. "But I'm sure (that picture) can't be anything like it will be."
It can't be done, according to UCLA coach Bob Toledo.
"You can't simulate the crowd or the atmosphere," Toledo said. "It is wild."
Bruins senior quarterback Cade McNown knows that feeling intimately. Third- ranked UCLA (9-0, 7-0 in the Pac-10) has a series-record seven-game winning streak over USC (7-3, 5-2), and McNown has engineered the last three victories -- two in the Coliseum.
"NAW, I DON'T FEEL ANYTHING for him," McNown said of Palmer. "When I went into the game (as a freshman in the Coliseum), I just went in and tried to help the team win. If he wants to do something right, it's just to look for a way to help his team win. I would never feel sorry for a guy who gets to play in front of a 100,000 people.
"What more do you want? It's the biggest game of the year, and it's a lot of fun. This isn't just another game. It's a crazy, fun atmosphere. The moment you show up on campus, you get a little brainwashed (with the rivalry). It's not an unhealthy thing."
The last two seasons have been fun for the Bruins, who are riding a 19-game winning streak -- the longest streak in the nation. The Bruins clinched the Pac-10 Conference title last weekend in Seattle and seek a spot in the national championship game in the Fiesta Bowl in Tempe, Ariz. After the Trojans, UCLA plays Miami in the Orange Bowl on Dec. 5. BCS angle puts a new twist on the 68th meeting of the Los Angeles rivals.
"We can knock them into the Rose Bowl," said first-year USC coach Paul Hackett. "When has that happened?"
McNown will be trying to knock off his archrival for the fourth consecutive time.
MCNOWN HAD AN EDGE OVER Palmer in that McNown had started seven times as a true freshman before he played his first game against USC in the Coliseum in 1995. McNown completed only eight passes for 131 yards, but a late third-and-13 scramble allowed UCLA to bleed the clock, securing a 24-20 victory.
That's when UCLA athletic director Pete Dalis, who has been close to Bruins football since he served as a senior manager for late coach Red Sanders more than 40 years ago, saw what was inside McNown.
"He has a real passion for the game," Dalis said, "and for making people miss."
McNown threw for 356 yards in UCLA's epic 48-41 double-overtime victory over USC two years ago in the Rose Bowl, and he had three touchdown passes with no picks in the Bruins' 31-24 victory over the Trojans last year.
Two games ago, Palmer became only the second true freshman to start at quarterback for the Trojans, and he beat Washington 33-10. Then he beat Stanford 34-9. He has completed 71 of 132 attempts for 1,035 yards, five touchdowns and only two interceptions this season.
"This is why you come to USC; to play UCLA," Palmer said. "The crowd will be booing, but the important thing is for us to keep our heads up and expect to win. It would be great to keep them from getting to the Fiesta Bowl, and I'm ready. I might not be as experienced as Cade. Nothing can change that. But I'm very confident."
HACKETT IS ENVIOUS OF HIS rookie pupil.
"The most impressive thing he's shown is his calmness," Hackett said. "He's very composed, and he's only 18 years old. Carson is really relaxed, and that's impressive. I'm not that way. I had a hard time starting, because I got too emotional. But I came off the bench well. Still, I don't know how much he'll sleep Friday night."
Only one of the last dozen games of the rivalry has been decided by a double- figure margin, so the game will likely be tight. USC is 8-7-1 against ranked UCLA teams, but the Trojans have beaten the Bruins in seven of the last eight such meetings.
Palmer is a 6-foot-4, fair-haired prototypical drop-back passer. The 6-foot McNown is a redheaded lefty who is almost more dangerous running with the football than he is throwing it.
Hackett, who tutored Joe Montana and others in the NFL, is also a McNown fan. He said most pro scouts have recently knocked McNown by questioning his arm strength, but says once the season ends NFL coaches will conduct more-thorough studies. And they'll like what they find.
"With the game on the line, he's the guy who has stood up and made the plays," Hackett said of McNown. "He's made the difference. He has an uncanny knack to escape and keep his focus, and he throws at so many different angles. Most important, you want winners. You look for competitors, and I'd be surprised if he's not successful in the NFL."
AGAINST THE HUSKIES LAST SATURDAY in Seattle, McNown, who has 10,231 career yards, became the Pac-10's all-time total offense leader. He has started a school modern-day record 40 games in a row, and in his 41 career starts the Bruins are 29-12.
USC has allowed a conference-low 126 points, and its rushing (fourth), passing (second), total (second) and scoring (second) defensive standings in the Pac-10 are all excellent.
"Our offense is more, we'll take what they give us, specifically in the passing game," McNown said. "We won't try to force a lot of things. There are times when we want to be physical and run the ball at them, and break their spirit a little. But for the most part, we'll do what the defense allows us to do, and do it to the best of our ability."
Don't expect the Bruins to wallow should they fall behind by a touchdown or two, though. In '96, they trailed the Trojans by 17 points in the fourth quarter, rallied and won that double-OT thriller. That has validated everything Toledo preaches to his players.
"You can't win every football game, but you can sure try," Toledo said. "By not giving up and not quitting, that gave some credibility to what I talk about. I won't let them forget about that game. You always have a chance. In business or in life, if you give up you'll probably die. You keep fighting."
Those are words Palmer and the rest of his teammates might heed on Saturday.
"Seven (the losing streak) is far too many," Hackett said. "It's time to get that jinx ended."