Kris Farris - UCLA - Outland Trophy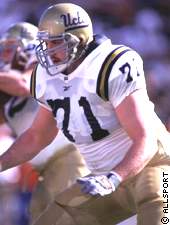 Last season, Kris Farris helped UCLA get to the Rose Bowl for the first time since '94. (Allsport)
Each week, CBS SportsLine will feature a One On One Q&A with a sports star or entertainment celebrity. The questions might seem unusual, but the answers are guaranteed to be insightful.
Kris Farris

By Allyson Turner
www.sportsline.com
At 6 feet 9 inches and 319 pounds, Kris Farris ranks among the top offensive linemen in this years' NFL Draft. Winner of the 1998 Outland Trophy as the nation's top lineman, Farris opted to forgo his senior season at UCLA. He's expected to be selected in the first round.
Farris didn't allow one sack last season and was selected to the Associated Press All-America first team with teammate, Cade McNown. Farris also received All-America honors from the Football Writers Association of America, the Football News and the Walter Camp Foundation.
An English major, Farris enjoys writing screenplays and hopes to pursue a career in the film industry after playing in the NFL.

Which player in the NFL do you most admire?
Tony Boselli. He's a technician and I learn a lot from him. I try to watch every game that he plays.
Is he the guy you would most like to be compared to?
Oh yeah. I think he's the best in the game.
Who had the most influence on your game?
Probably my position coach, Mark Weber. He taught me to be very coachable. He also taught me to approach every day trying to correct one thing. The problem with a lot of players is they try to improve everything at one time when they really need to approach one thing at a time.
What happens leading up to the draft?
It's crazy. I'm just trying to work out and trying not to read any of the stuff on the Internet. There is a lot of different information out there and it's all very conflicting. It's hard not to look but it's also hard when you read it. I'm trying to keep busy and get ready for camp.
In an ideal world, where would you like to play?
I wouldn't mind staying on the West Coast. I am partial to San Francisco just because my old coach, Terry Donahue, is up there.
For each of the following sports figures, what is the first thought that comes to mind?

UCLA QB Cade McNown: Winner.

Former teammate Skip Hicks: Excelleration.

Former teammate Karim Abdul Jabbar: Hard-working.

Former UCLA QB Troy Aikman: Gifted.

Former coach Terry Donahue: Cool.

Former teammate Jonathan Ogden: Incredible.

What is one word or phrase that best describes you?
Goal-orientated.
What do you eat during the course of a typical day?
I usually wake up and have a couple packages of EggBeaters, which are about 4 eggs apiece but they're cholesterol free. I mix in vegetables, mushrooms or onions. I'll have that and a protein shake. Then I'll go through the morning and probably have a yogurt snack. For lunch, maybe a couple turkey sandwiches, because I'm trying to have a pretty low-fat diet. In the afternoon, probably another protein shake before I work out. A big dinner, with a couple pieces of grilled chicken breasts, some rice and steam vegetables.
It's your last meal, where and what do you eat?
Lowry's Prime Rib -- the best prime rib in the world. I'm going there for dinner the night of the draft.
What is your pet peeve?
People driving too slow in the fast lane. I'm not a fast driver, I just don't like people going below the speed limit.
What are you intimidated by?
Sharks.
Were you always really tall?
Yes. Relatively tall compared to everyone else.
Do you like being tall?
I didn't when I was younger. I do now. It has opened up a lot of doors for me.
If you could be invisible anywhere, where would you be?
In the war room on draft day.
Being an English major, do you have a favorite book?
I always read 20,000 Leagues Under the Sea. I actually just started it again last week. It's the first book that got me into English and literature because I picked it up one day in eighth grade and couldn't put it down.
If you push "play" on your CD player, what would be playing?
The Doors.
What is the first thing that you will buy after signing an NFL contract?
Probably a big screen TV because I'm really into movies.
Which movie do you think should have won best picture at the Academy Awards?
Saving Private Ryan. It was nice during the Oscars, because this was the first year where I figured that all five movies deserved it. I'm just biased because I like Steven Spielberg so much.
If you could have anyone over your house for dinner, whom would you invite?
Steven Spielberg, without question.
What do you see for yourself in life after football?
I also want to be in the film industry and that's kind of what I've been gearing up for. We'll see where that goes. I imagine producing, that's what I can see myself doing. Right now, because of football, I haven't had time to perfect my directing skills.
What is your favorite movie?
Citizen Kane. Shindler's List is always up there. I was just watching Lawrence of Arabia and I had to turn it off to come in here and do this.
What is a perfect day?
Get up and have a workout so I can get football totally out of my mind. Go see a good movie in the afternoon. Go for a nice dinner preferably at Lowry's. Then probably see another movie.