Kris Farris - UCLA

3rd round,
13th pick
(74th overall)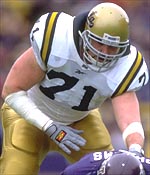 TSN PHOTO
Player profile: Kris Farris
School: UCLA
Height/Weight: 6-8/310
Speed (40 time): 5.16
NFL comparison: Jonathan Ogden, Ravens

WAR ROOM:
There are mixed reviews about Farris. While he's a true left tackle, he is not as athletic or gifted as John Tait. And though many have compared him to Jonathan Ogden, he is not in that class, either. Farris basically is a big body with an excellent wingspan who has developed into a pretty good pass blocker. He has good range, can slide outside and is tough to get around. He is an adequate run blocker and gives good effort, but he tends to be a little bit of a waist-bender and doesn't always play with great leverage. He has enough natural size and strength to defeat most defenders. Although Farris is a left tackle, it is important to note that he played with a lefthanded quarterback at UCLA (Cade McNown), so he hasn't had to protect the backside of a quarterback. Farris probably will continue to improve as he grows into his body, and while he may never be a great NFL player he certainly can become a solid one.
DAN POMPEI:
Has left tackle skills. Can slide and mirror. Has long arms and quick feet -- a nice combination. Came out a year early and probably isn't ready to start. Did not dominate in college. Though he played on the left side, he played for a lefthanded quarterback and therefore has not protected a passer's blind side. Plays with a mean streak. Needs to improve strength. Has a tall, gangly build.
NOTES
The 1998 Outland Award winner as the nation's top interior lineman, Farris combines a 6-9 frame with a 27.5-inch vertical leap to create a potentially fearsome NFL presence. He started all 11 of UCLA's games as a redshirt freshman in 1996, helping RB Skip Hicks to top the 1,000-yard rushing mark for the first time. He also recovered the fumble of an Oregon interception in the Bruins' 41-22 win over the Ducks that season. As a sophomore in '97, his protection for QB Cade McNown allowed him to throw for 3,116 yards, becoming the school's first-ever 3,000-yard passer. Last year, he helped McNown pass for another Bruin milestone, topping the 3,000-yard mark for the second straight season while spearheading the entire team to collect a school-record 5,309 yards of total offense and score 445 points, the third-highest total in UCLA history. A '98 first-team All-American, Farris is one of five Bruins named to last season's first-team All Pac-10 offensive squad.